OnApproach M360 Enterprise: Fueling a Bright Future for Credit Union Analytics
Credit unions are facing significant challenges in the form of fintech startups, disruption, digitization, and evolving member expectations. It is imperative for credit unions to understand the role of data and analytics in financial services today. Data analytics is the next major step for credit unions to continue to compete in financial services and improve member service, and as we have seen in the past with initiatives such as shared branching or ATM networks, collaboration will help credit unions to achieve advanced analytics capabilities.
OnApproach is a CUSO dedicated to helping credit unions transform their business models to become data-driven organizations. OnApproach M360 Enterprise is a universal analytics solution that empowers credit unions to take advantage of all available data. With M360 Enterprise, credit unions can integrate member data into a single source of truth, enabling collaborative analytics on the CU Analytics Platform. View the webinar recording to learn about key topics such as:
OnApproach's mission to transform the credit union industry into a data-driven movement

Case studies showing various analytics success stories across the credit union industry

The benefits of collaborating on analytics

How CUSOs can help credit unions to own and control their data

How OnApproach M360 can help to set your credit union up for success in analytics
Featuring: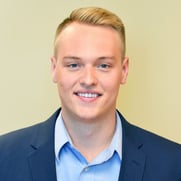 Austin Wentzlaff, VP Business Development, OnApproach
Austin J. Wentzlaff joined OnApproach in 2013 as a Business Development Analyst and is now currently Vice President of Business Development. He is responsible for developing marketing strategies, driving prospects to contract award, building and maintaining high-level relationships with current and prospective clients and strategic partners, and elaborating business development plans that support business growth. Austin is an alumnus of Gustavus Adolphus College in Saint Peter, MN. He graduated Gustavus Adolphus College with a B.A. in Financial Economics.